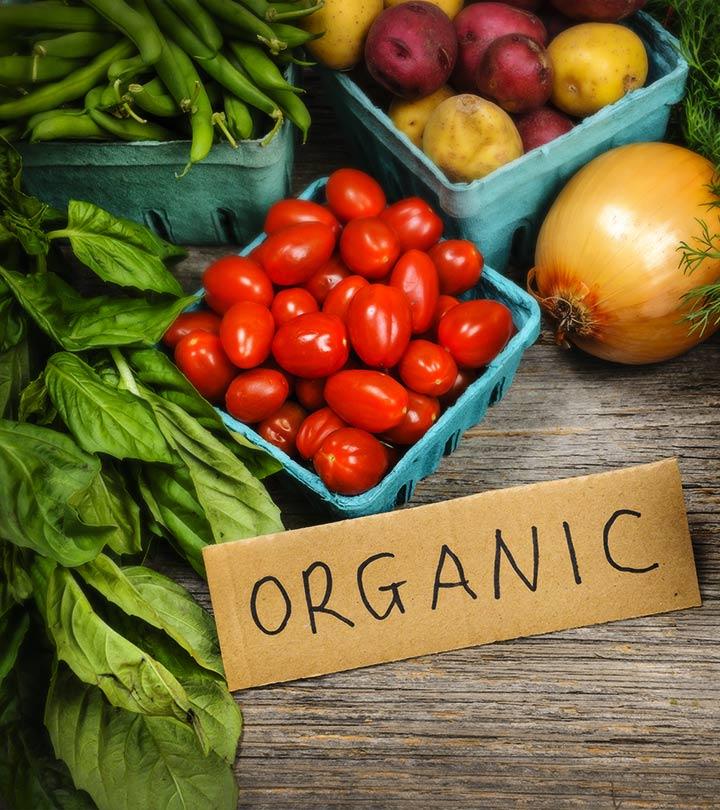 What is Organic Food?

The organic food labels can be of 4 types: 100% organic, organic (product made of at least 95% organic produce), made with organic (product made of at least 70% organic produce), and specific organic ingredients (product made of less than 70% organic produce).
Here we present the pros and cons of organic foods to simplify your decision to go for it or refrain from it:
Let's have a look at the various pros of eating organic food:
1. No Chemicals
Unlike conventional farming, organic farmers are restrained from using synthetic fertilizers, chemical additives, or preservatives in their produces. As such, the food you eat has no chemical residues to harm your body. And you are also safe from poisonous pesticides posing serious health issues (3).
Instead of chemical fertilizers, organic farmers use organic matter such as compost, manure, feather meal, or blood meal to boost crop growth.
2. Eco-Friendliness
Organic farming is a boon to our deteriorating environment. As it does not go by the principle of increasing crop size, it has lesser complications for the soil and atmosphere. They also conserve water for our future. In organic farms, there is increased diversity of crops .
3. High Nutritional Values
4. Better Taste
Organic farming induces better taste in your food (5). Taste in food develops with the amount of its sugar content. With better nutritional inputs, organic farms increase this taste considerably. You can enjoy naturally sweet apples and berries.
5. Zero Hydrogenated Fat
Eat organic and forget about heart disease! Yes, organic produce is devoid of any hydrogenated fat. This, in turn, reduces your risk of heart-related ailments. It also readies you to take on the challenges of hectic life schedules easily – thanks to its high antioxidant content .
6. Organic Is Healthy For Unborn As Well
Cons Of Organic Food:
Let's have a look at the various cons of organic food:
7. High Price Levels
In organic farming, the produce is usually lower due to the lack of synthetic fertilizers. As such, they tend to be more pricey than non-organic food. Even the overhead costs are higher in organic farming. All these factors make them heavier for your pocket (7).
8. Spoils Quickly
This is the most alarming fact related to organic food. It goes off the shelves rather quickly. Actually, organic food is produced without artificial preservatives or irradiation. Hence, they tend to be spoiled faster than processed non-organic food (8).
9. Contamination By E. Coli
10. Hard to Find
Sometimes, you may not be able to find organic food at a store near you. This is basically due to the non-feasibility of organic farming in every region. Also, because organic food has a lower shelf life, you cannot always expect to procure it from far-flung areas where organic farming is done.
With these pros and cons of organic foods, whether you should choose organic food or not, depends on your personal choice anyways!