Symbols of the era of kings and queens, royal palaces acted not only as the residences of the world's monarchs but as potent symbols of dominion. From permanent abodes to summer residences, the great palaces around the world reflect a diversity of cultures, architectural styles, and unique history that fascinates the public today. Though many monarchies have been abolished, their great palaces remain, ready to be explored and appreciated by all. This article examines 10 of the World's Most Beautiful Palaces.
Lake Palace, India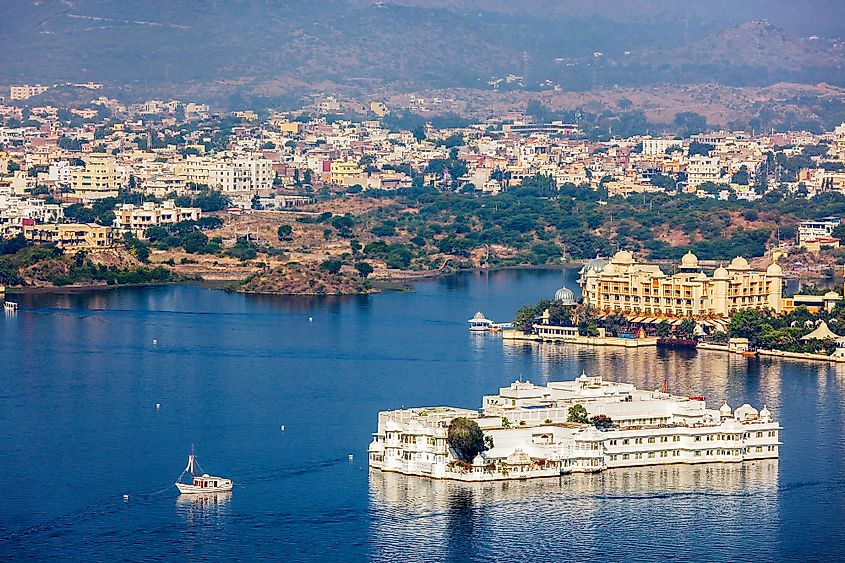 Constructed between 1743 and 1746, Lake Palace in the Indian city of Udaipur is now one of the country's most luxurious hotels. Once the summer retreat of the Mewar family dynasty, this stunning building on an island in the waters of Lake Pichola is among the most exotic palaces one could hope to see. Sitting on a bedrock foundation spanning some 4 acres, Lake Palace has a truly elegant appearance that is beautifully reflected in the serene waters. Guests who stay can further enjoy a splendid and fanciful interior while also enjoying the sun in the inner courtyard and its water garden. But even for those who view Lake Palace from afar, its majesty will never be hard to appreciate.
Palais Des Papes – France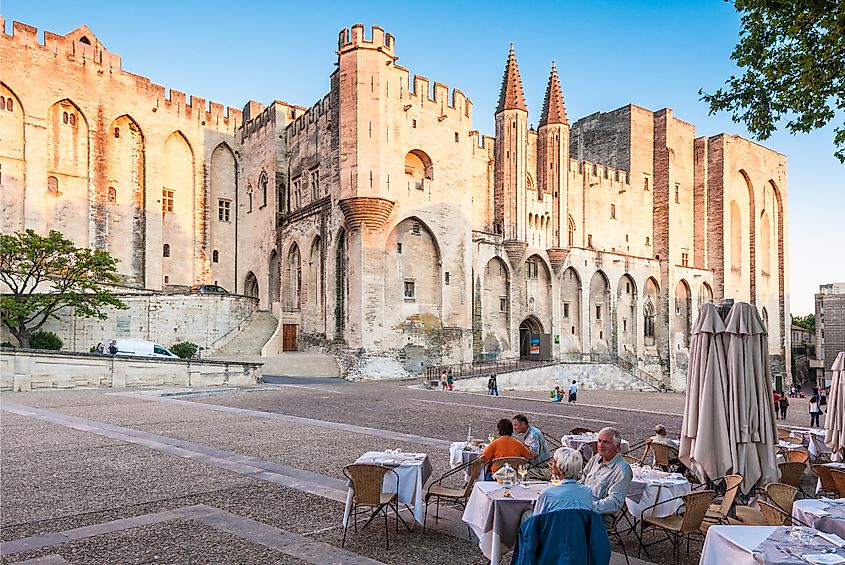 Located in the southern French city of Avignon, the Palais des Papes (Palace of the Popes) was first constructed in 1252 and, for 67 years between 1309 and 1376, was the residence of the Roman Catholic Pope. A towering fortress, this Medieval Gothic structure was named a UNESCO World Heritage Site and is one of western Europe's most frequently visited castles. Today the Palace serves as a fascinating museum and even houses a modern convention center, where touring exhibitions frequently appear. Covering an area of roughly 15,000 square meters, this stone giant and its awesome towers is an absolute delight to behold and a must-see for anyone visiting the south of France.
Potala Palace – Tibet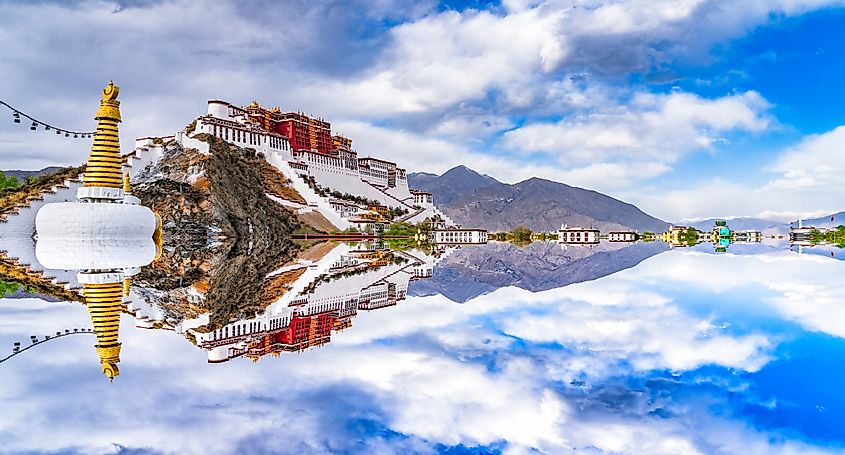 Once the winter residence of the Dalai Lama, the Tibetan spiritual leader, for over 300 years, construction began on the Potala Palace in 1645. Set on the stunning peak of Marpo Ri Hill, with an elevation of nearly 12,000 feet, this Palace in the heart of the Lhasa Valley has sloping stone walls some 16 feet thick! Containing over 1,000 rooms, a remarkable 200,000 statues, and nearly 10,000 separate prayer shrines, Potala Palace is an awe-inspiring building that was rightfully designated a UNESCO World Heritage Site. Surrounded by majestic mountains and beautiful valley views, Potala Palace is a mighty and enduring symbol of Tibetan Buddhism and human achievement.
Schonbrunn Palace, Austria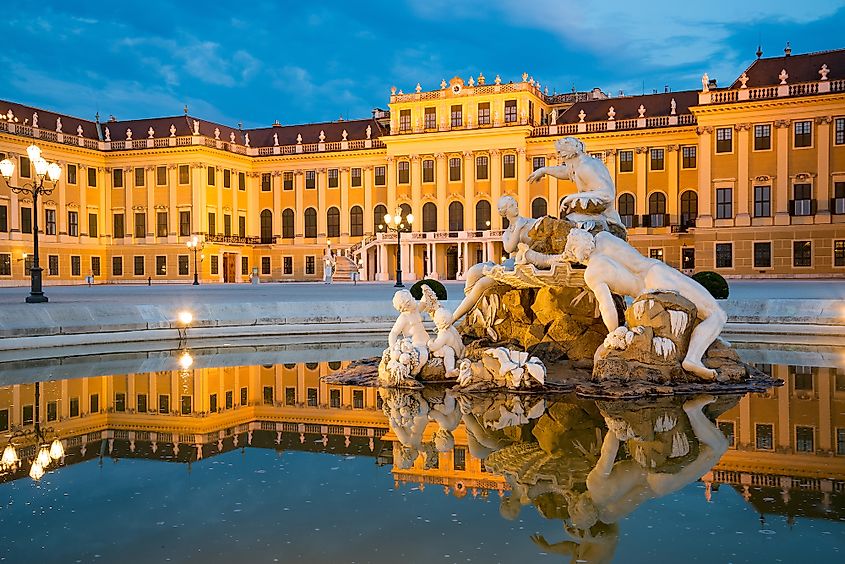 Featuring 1,441 rooms, Vienna's Schonbrunn Palace, built in the Baroque architectural style in the 1740s, attracts up to 3 million visitors a year. Once the summer residence of the Hapsburg royal dynasty, this splendid building, and its yellow façade was even the birthplace of Emperor Franz Joseph I in 1830. From a German word meaning "beautiful spring," Schonbrunn Palace is full of beautiful artwork, ornate tapestries, and intricate sculptures, accentuated by its impressive display of ballrooms and salons. Named a UNESCO World Heritage Site in 1996, visitors can also marvel at the Palace's exquisite botanical gardens and the Schonbrunn Zoo (established in 1752) within the building grounds.
Palace Of Versailles, France
An icon of French royal history, the Palace of Versailles was the French monarch's main residence until the French Revolution in 1789. Constructed in phases beginning in 1661 under the order of Louis XIV, the Palace became a symbol of both admiration and discontent with the crown, and following the monarchy's overthrow, the building was looted and largely left abandoned. Although Emperor Napoleon briefly used it as a summer retreat, it was not until the mid-19th to early 20th centuries that serious restoration work began. Today with nearly 10 million visitors a year, this Palace is a splendid journey back in time with stunning gardens, glittering interiors, and exquisite architectural designs, which include the famous Hall of Mirrors. Site of such modern events as the infamous 1918 Treaty of Versailles, the Palace was added to UNESCO'S list of World Heritage Sites in 1979.
Winter Palace – Russia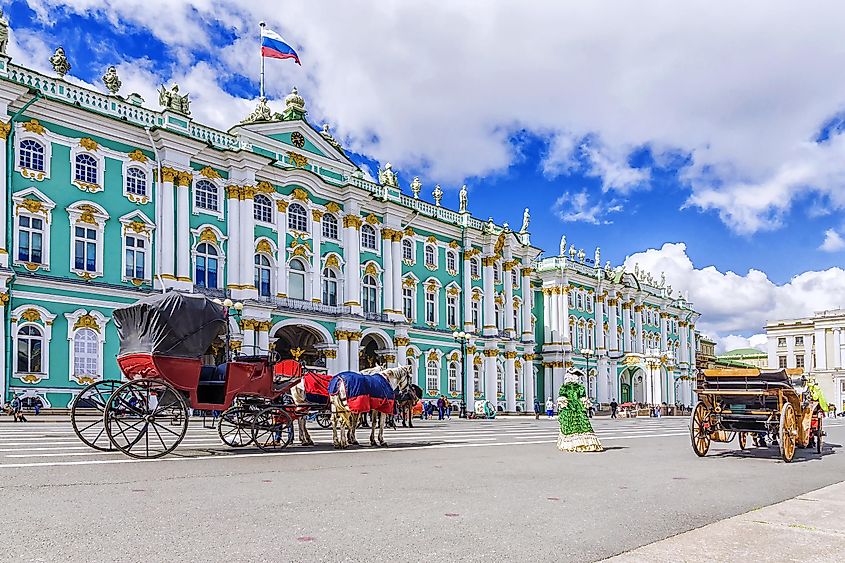 The official residence of the Russian Tsar for 185 years, the Winter Palace in Saint Petersburg, was completed in 1735 and has over 1,500 rooms. A striking symbol of power, this Baroque edifice and its famous white and green walls displays an impressive array of art, sculpture, and stunning architecture. Now the home of the renowned Hermitage Museum of Art (with around 2.5 million visitors a year), the Winter Palace is a place of great discovery. Stormed during the height of the Russian Revolution in 1917, the building is indeed a place of living history, where visitors can learn more about Russia's past and admire the impressive collection of art at one of the world's best museums.
Buckingham Palace, England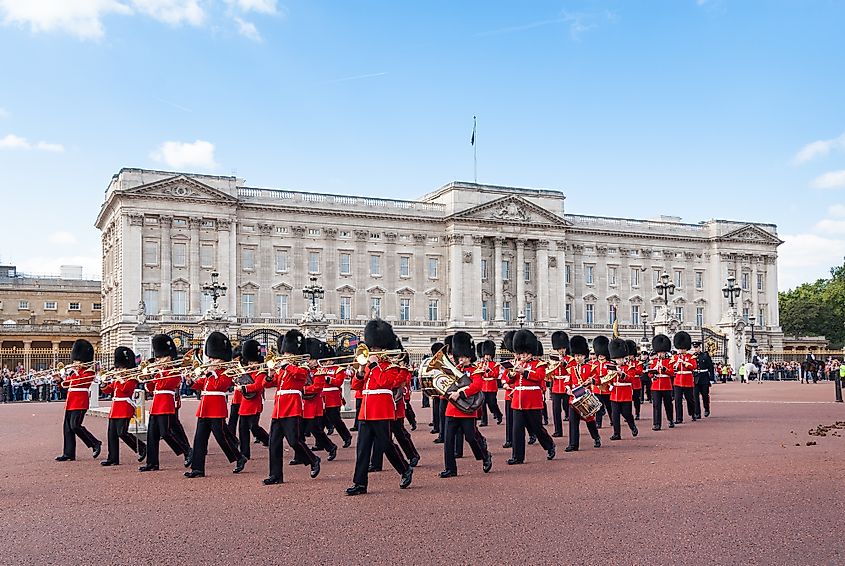 Arguably the most famous royal residence in history, London's Buckingham Palace has been the home of the British monarchy for over three centuries. Originally constructed in 1703, the building has grown over time, with numerous restorations and additions defining much of its history. Today it continues to be a primary residence of the British monarchy, and sightings of the royal family on the balcony are a relatively common occurrence. With 775 rooms, including bedrooms, staterooms, and ballrooms, the Palace is filled with beautiful artwork, exquisite furnishings, and an undeniable sense of royalty. Though public access is limited, Buckingham Palace still sees about 50,000 visitors a year, who can also enjoy the pageantry of the changing of the guard on most days.
Grand Palace, Thailand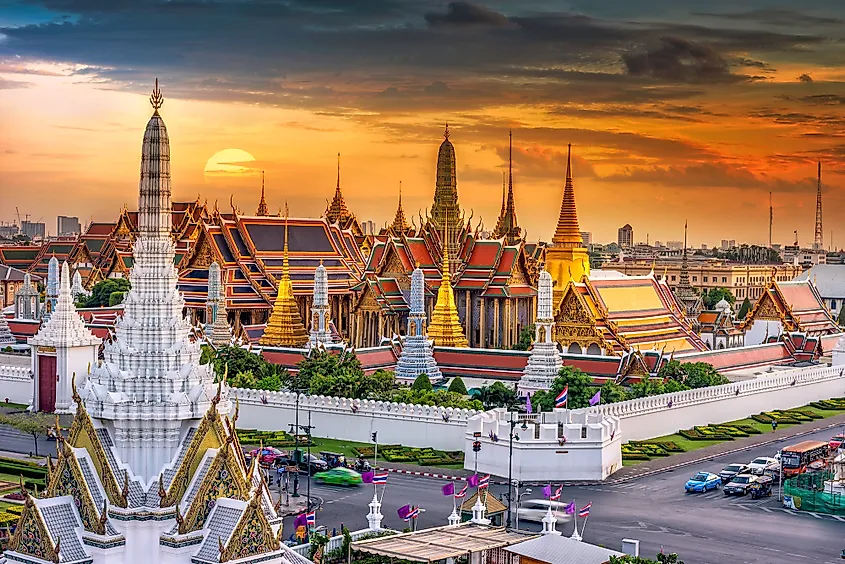 The official residence of the Thai monarchy, the Grand Palace, was built in 1782 on the banks of the Chao Phraya River in Bangkok. With a sprawling and extensive network of buildings and beautiful gardens, the Grand Palace covers an area of nearly 220,000 square meters. Unlike many other palaces around the world, this jewel of Bangkok houses several separate structures, courtyards, and unique architectural designs special to Thailand. Partially open as a museum, visitors will surely not want to miss a stop at the Temple of the Emerald Buddha in the complex, widely considered the holiest of Buddhist sites in all of Thailand.
Chateau De Chambord, France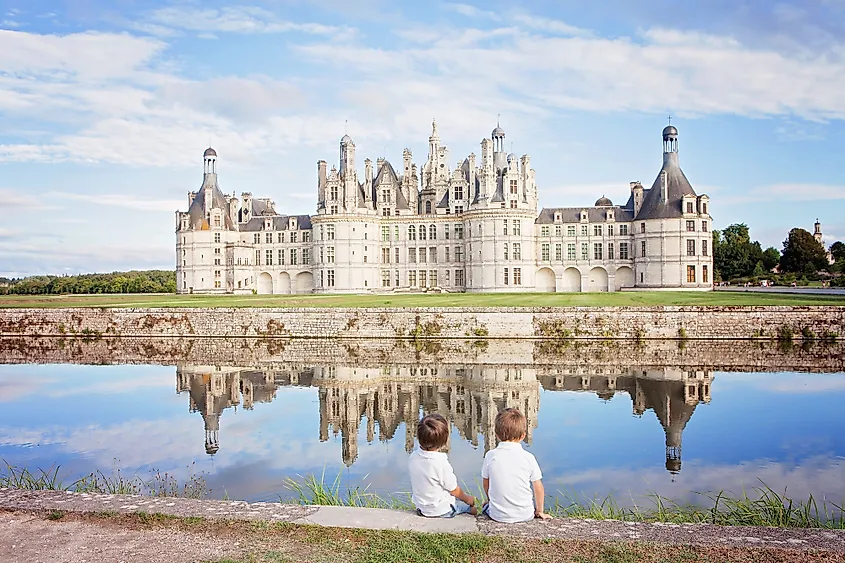 Completed in 1547, the architecturally stunning Chateau de Chambord lies in France's famed Loire Valley, home to some 300 castles and chateaus! Renowned for its French Renaissance architectural style, the Chateau de Chambord was commissioned by King Francis I to serve as a hunting lodge and refuge and is filled with cozy chambers and beautiful artwork throughout. With elegant halls, arches, towers, and turrets, this Chateau is a truly unique and special sight. Outside, visitors can stroll around the building's lawns and courtyards and pose for great photos at the peaceful moat surrounding it.
Alhambra, Spain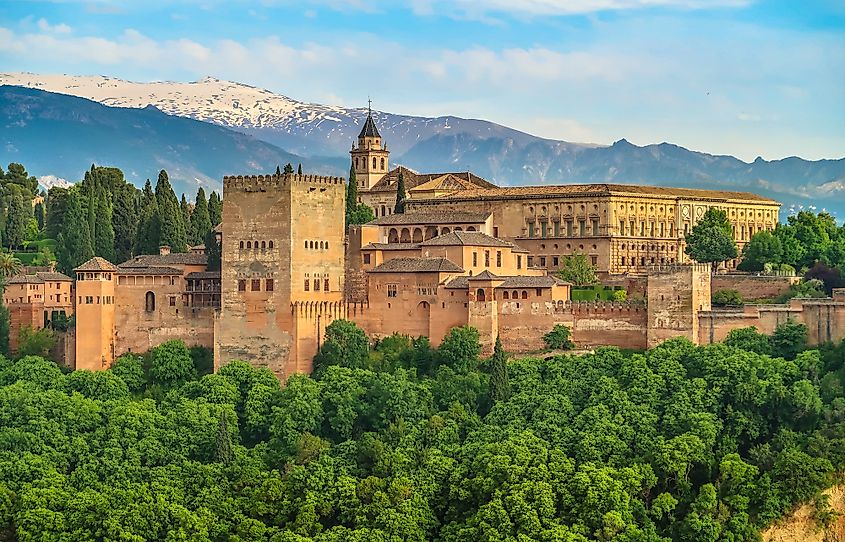 From an Arabic phrase meaning "the red one," the palace-fortress of the Alhambra in Granada, southern Spain, is an absolute marvel of human architectural achievement. Constructed over several centuries beginning in 1238, this complex proudly boasts some of the very best in Islamic, Moorish, Spanish, and Andalusian architecture spanning multiple periods of history. With upwards of three million visitors a year, the Alhambra is Spain's most visited site and was the residence of Islamic emirs and the Spanish monarchy. A visit to its extraordinary gardens, courtyards, and lush greenery is undoubtedly one of the best foreign trips any person can take, and with the Sierra Nevada mountain range as a backdrop, its views are second to none. Indeed this UNESCO World Heritage Site is a firsthand experience through history, culture, and ingenuity.
Reflecting a great range of cultures, histories, and architectural styles, some of the world's great palaces are indeed truly exceptional places. Though indicative of a time when monarchs held much power, these special buildings continue to be great examples of human artistic and cultural achievement and have enriched the public with their stunning facades and elaborate interiors.