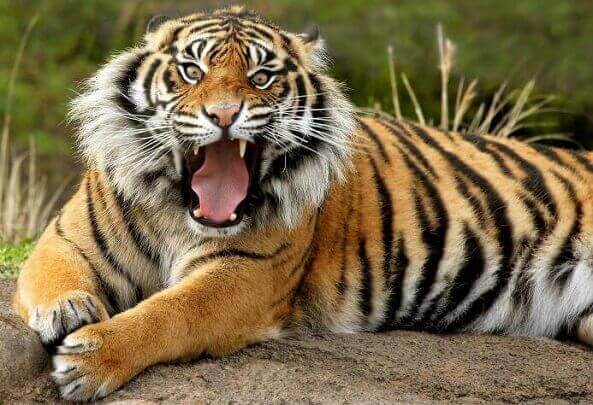 National Animal of India
The national animal of India is the magnificent Royal Bengal Tiger. Its scientific name is Panthera tigris tigris. The Bengal Tiger is a striped animal with a thick yellow coat of fur with dark stripes. The Royal Bengal tiger is the symbol of strength, agility, and grace. The Royal Bengal Tiger is majestic, regal, and lethal at the same time which makes it one of the most distinguished carnivores among the Indian fauna. It is known for its mystic and charming features that set it apart from the rest of the wild animals found anywhere in India. It is these qualities that make it the national animal of India. 
National Animal of India: Scientific Classification
| | |
| --- | --- |
| Kingdom | Animalia |
| Phylum | Chordata |
| Clade | Synapsida |
| Class | Mammalia |
| Order | Carnivora |
| Family | Felidae |
| Genus | Panthera |
| Species | Panthera tigris |
| Subspecies | Panthera tigris tigris |
National Animal of India: Where is it Found?
The national animal of India is mainly found in the following places.
Grasslands and dry scrubland (Ranthambore in Rajasthan)
Tropical and subtropical rainforests (Corbett in Uttarakhand/Periyar in Kerala)
Mangroves (Sunderbans)
Both wet and dry deciduous forests (Kanha in Madhya Pradesh/Simlipal in Odisha).
Life Span of A Tiger
A Bengal tiger has an average lifespan of 8 to 10 years in the wild.
The maximum lifespan of the wild specimen is about 15 years.
Very few tigers reach 15 years in the wild because they eventually become too weak to hunt large animals.
In captivity, Bengal tigers can live as long as 18 to 20 years.
India's National Animal: Project Tiger
By 1973, the population of the tiger started dwindling at a rapid rate. Therefore, to preserve the regal and majestic animal Project Tiger was initiated in April 1973. The Project Tiger aims at protecting them from extinction and preserving areas of biological importance as a natural heritage forever representing as close as possible the diversity of ecosystems across the distribution of tigers in the country.
The national animal of India, the Royal Bengal Tiger was adopted as a national animal in April 1973.
In 1973, Project Tiger was initiated to protect the dwindling population of tigers in India during Prime Minister Indira Gandhi's tenure.
Kailash Sankhala was the first director of Project Tiger.
Prior to 1973, the lion was the national animal of India.
At present India has 50 tiger reserves which are governed by Project Tiger.
List of National Animals of all Countries
Here is the full list of National Animals of all Countries.
| Country | National Animal |
| --- | --- |
| Afghanistan | Marco Polo Sheep |
| Argentina | Puma |
| Australia | Kangaroo |
| Bangladesh | Royal Bengal Tiger |
| Belgium | Lion |
| Bhutan | Takin |
| Bolivia | Llama |
| Brazil | Jaguar |
| Bulgaria | Lion |
| Chile | Huemul |
| China | Chinese Dragon |
| Colombia | Andean Condor |
| Cuba | Cuban Crocodile |
| Cyprus | mouflon sheep |
| Denmark | Lion |
| Egypt | Saladin's Eagle |
| England | Lion, Bulldog |
| Finland | Brown Bear |
| France | Gallic Rooster |
| Hungary | Turul |
| India | Royal Bengal Tiger |
| Iraq | Komodo Dragon |
| Ireland | Irish Wolfhound, Red Deer |
| Israel | gazelle |
| Japan | Pheasant, Koi |
| Jordan | Oryx |
| Malaysia | Malayan Tiger |
| Myanmar | peafowl |
| Netherlands | Lion |
| New Zealand | Moose |
| Norway | Lion |
| Pakistan | Markhor |
| Philippines | Carabao |
| Poland | White Eagle |
| Portugal | Iberian wolf |
| Puerto Rico | Coqui |
| Romania | lynx |
| Russia | Russian Brown Bear |
| Scotland | Unicorn and Lion |
| Singapore | Lion |
| South Africa | Springbok Antelope |
| South Korea | Korean Tiger |
| Spain | Bull |
| Sri Lanka | Lion |
| Taiwan | Formosan Black Bear |
| Thailand | Thai Elephant |
| United States of America | American Bison |
| Vietnam | Water Buffalo |
| Zimbabwe | Sable Antelope |