While the United States is certainly younger than many of the world's countries, in its 200-plus years of modern history, it has managed to create a series of wonderful architectural marvels. Though they may not be several hundred or even thousands of years old like Europe or Asia, America still has many awe-inspiring and innovative buildings and structures reflecting different eras of history and regional diversity. This article looks at 10 of the Most Beautiful Buildings in the United States.
The White House, Washington DC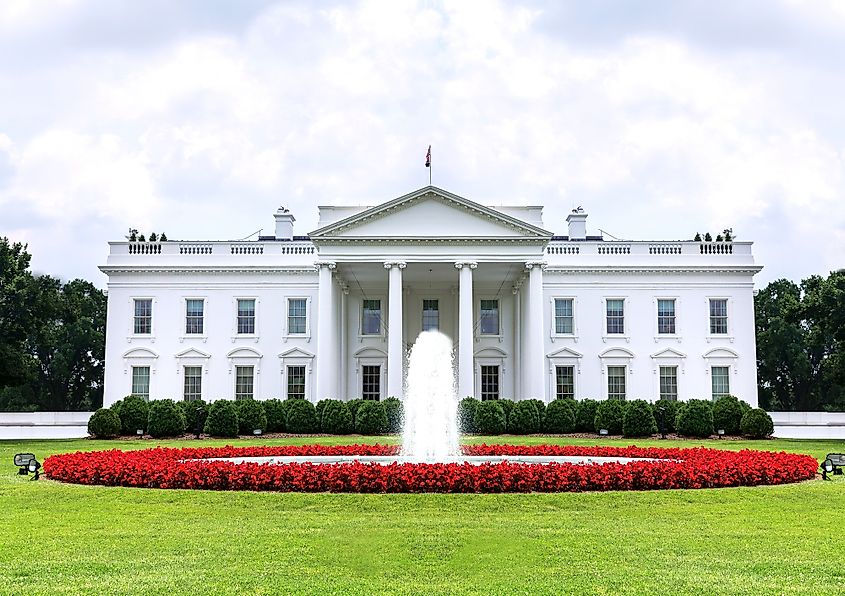 Completed in 1800, the White House has been both the official workplace and residence of every US President, except George Washington. Designed by the Irish architect James Hoban, this neoclassical mansion on 1600 Pennsylvania Avenue is one of America's most iconic buildings. The symbol of the Presidency and the United States' democratic ideals, the White House has witnessed fires (notably during the War of 1812), extensive renovations, and naturally numerous protests. However, it has withstood the test of time as a powerful image of American power and democracy.
Empire State Building, New York City
Completed in 1931, the 102-stories tall Empire State Building juts out some 1,450 feet in the sky and was for its first 40 years the tallest building in the world! Considered an Art Deco masterpiece, this iconic skyscraper in Midtown Manhattan attracts millions of tourists annually. Observatory lookouts on the 86th and 102nd floors offer stunning views of Manhattan, Central Park, and the Hudson and East Rivers. Frequently illuminated to commemorate special events, the Empire State Building is indeed one of the country's true architectural treasures, recognized around the globe.
Jefferson Memorial, Washington DC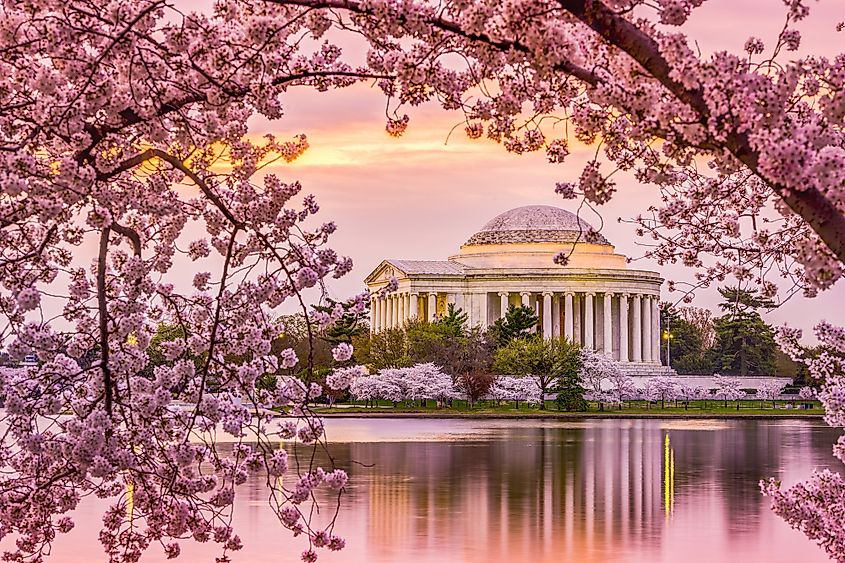 This neoclassical pantheon-like temple was built to honor the memory of Founding Father and 3rd President Thomas Jefferson and opened to the public in 1943. Located on the west end of the National Mall, this open-air shrine overlooks the Potomac River and is a quiet place of contemplation and reverence. Featuring a 10,000-pound, 19-foot statue of Jefferson, surrounded by quotes from the Declaration of Independence, this beautiful Roman-inspired temple is perfect for escaping some of Washington's busiest crowds. In the springtime, the Jefferson Memorial is a great place to view stunning Cherry Blossoms in bloom.
Chrysler Building, New York City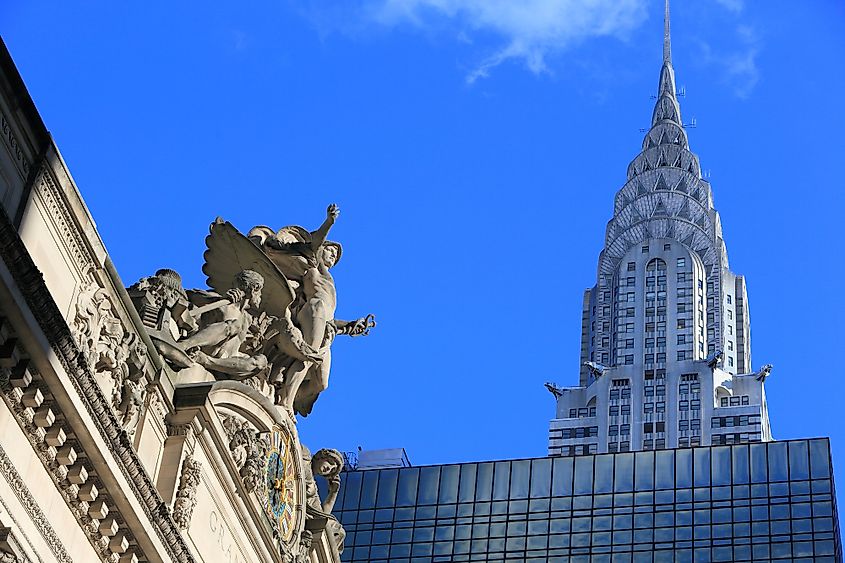 Another New York Art Deco icon, the Chrysler Building, stands 77 stories and is just over 1,000 feet tall. On the intersection of Lexington Avenue and 42nd Street on Manhattan's East Side, the skyscraper was completed in 1930 and designated a National Historic Landmark in 1976. With a distinctive crown, spire, and metallic eagles protruding from the 61st floor, the Chrysler Building is one of the most easily identifiable buildings in America. Unfortunately, unlike the Empire State Building, no tours or observation decks are available, so visitors must enjoy this classic edifice from afar.
Haines Shoe House, Hallam, Pennsylvania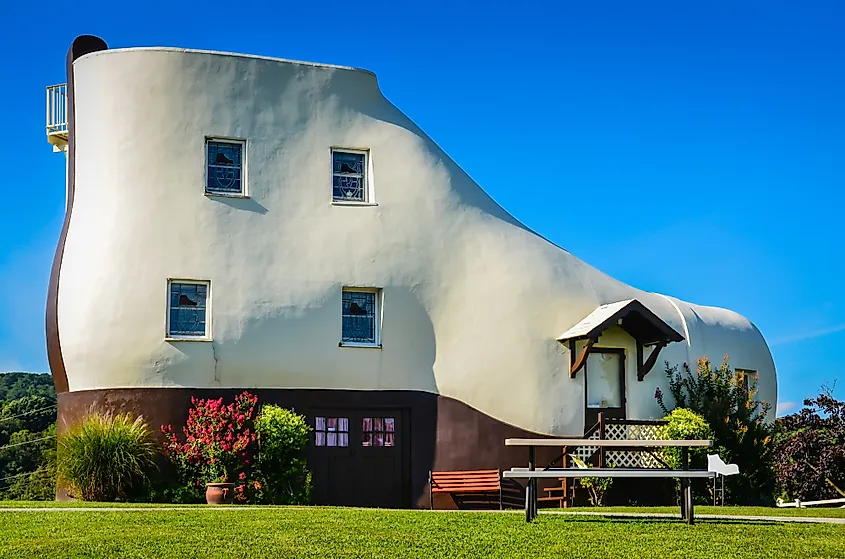 Conceived by shoe salesman Mahlon Haines in 1948, the Haines Shoe House is simply a giant house in the shape of a work boot. With five stories, this 25 feet tall and with five stories, Haines intended the house to be used for advertising and never actually lived in it. At one time, it was rented out to couples and other visitors but is now maintained privately with the occasional public tours. An unmistakable landmark of the area, the Shoe House has been featured in numerous TV programs and movies. It is surely amongst the most beautiful buildings one will ever see in America.
The US Air Force Academy Cadet Chapel, Colorado Springs, Colorado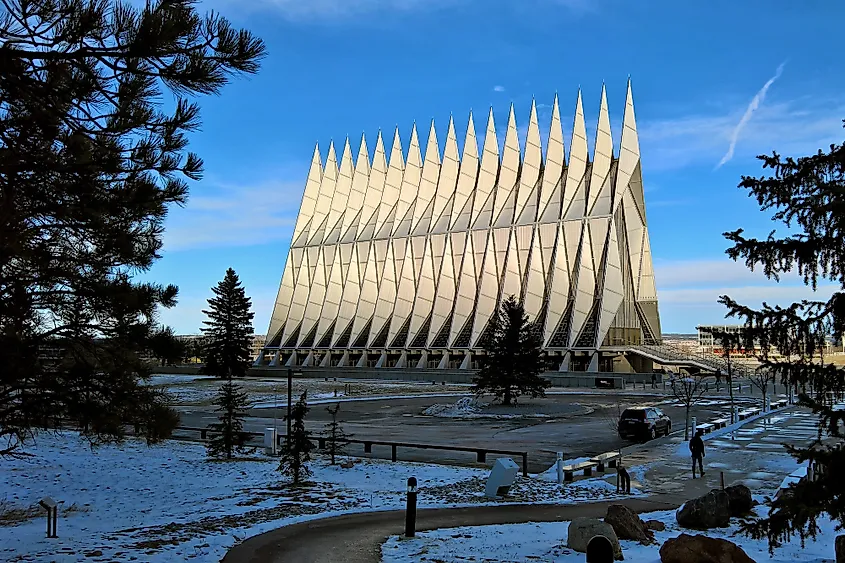 One of the most distinguishing features of the United States Air Force Academy, Cadet Chapel was completed in 1962 and designated a National Historical Landmark in 2004. Standing 150 feet tall and with 17 striking spires, this multi-faith chapel commands attention. A prime example of modernist architecture, the steel frame of the building is enclosed with aluminum panels and stained glass and includes a Protestant, Catholic, Muslim, Jewish, and Buddhist chapel. Awarded the Twenty Five Year Award by the American Institute of Architects, Cadet Chapel is a beautiful modern-day temple, great for reflection.
UCSD Geisel Library, San Diego, California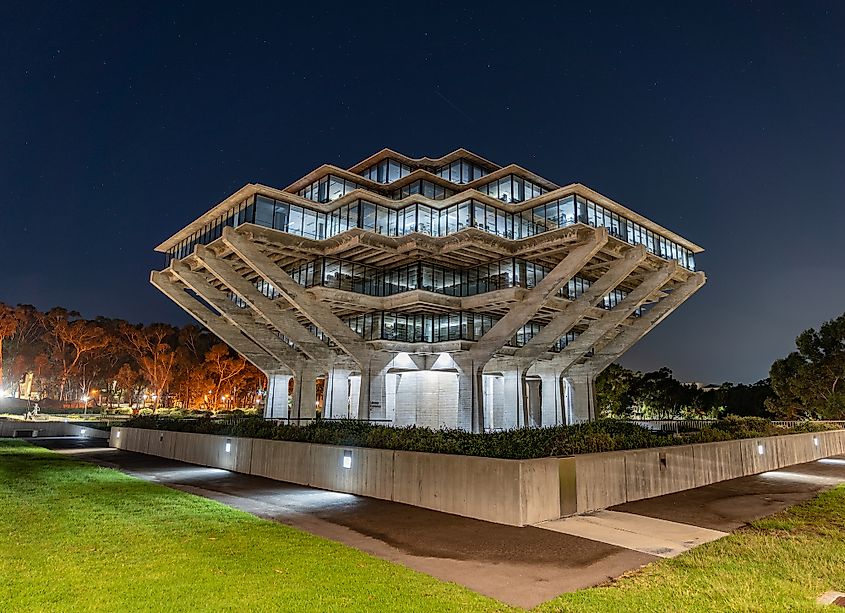 Named in honor of children's author Dr. Seuss (Theodore Geisel), the Geisel Library on the campus of the University of California, San Diego, is a futuristic marvel that first opened to the public in 1970. Standing some 110 feet tall and with eight floors, the melding of concrete supports with reflective glass makes this a fascinating structure. Indeed upon first glance, one may surely say to themselves, "What's that?" With a print and digital collection of over 7 million items, this library is an indispensable part of the local campus community and those thirsting for knowledge.
Lincoln Memorial, Washington DC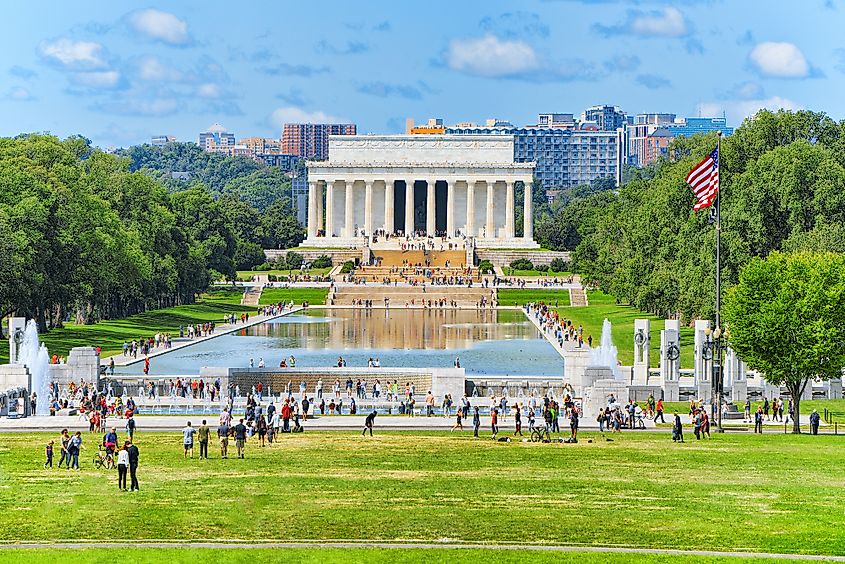 Another memorial dedicated to a former President in the nation's capital, the Lincoln Memorial, was completed in 1922. Built in the Greek Revival style, this temple that honors America's 16th President, Abraham Lincoln, is one of Washington's most famous landmarks. Added to the National Register of Historic Places in 1966, the Memorial sees up to 7 million visitors annually and houses the colossal, seated statue of Abraham Lincoln. Composed of marble and weighing an impressive 170 tons, the statue is a crown jewel on a true treasure of a building and its famously pristine Doric columns.
Walt Disney Concert Hall, Los Angeles, California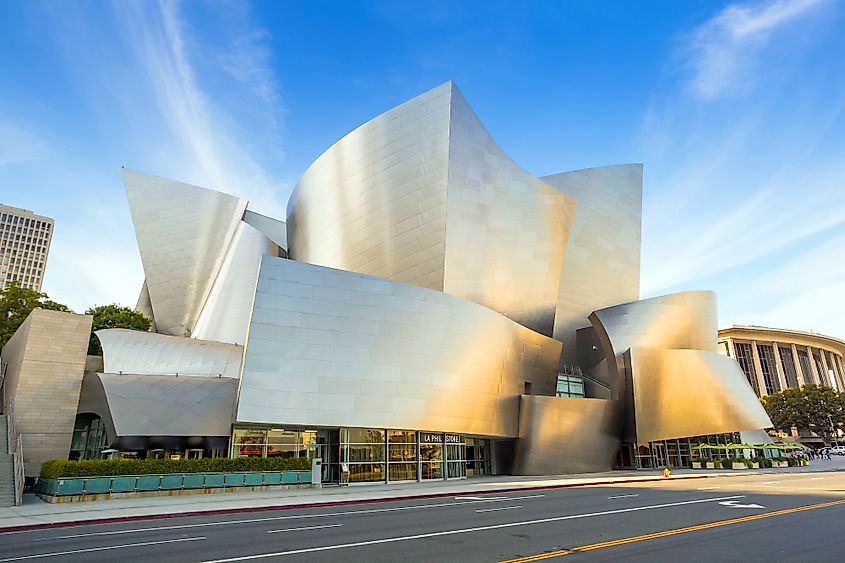 Designed by world-renowned architect Frank Gehry, this large music auditorium with a capacity of 2,265 people opened to the public in 2003 at the cost of $130 million. Home of the Los Angeles Philharmonic Orchestra, this multipurpose venue boasts a sleek modernist design with instantly recognizable steel plate sidings. A staple of downtown LA, the Walt Disney Concert Hall not only plays host to great music and art but is really a work of art in itself.
Independence Hall, Philadelphia, Pennsylvania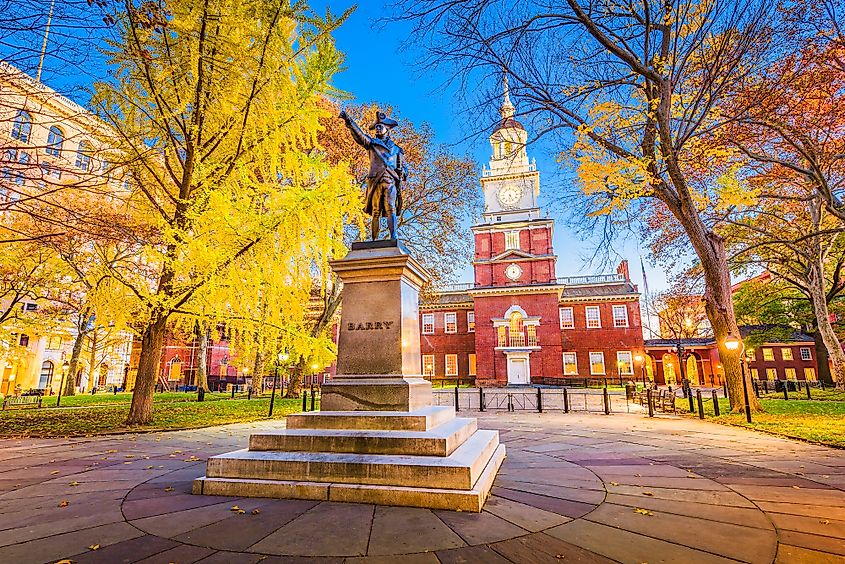 A UNESCO World Heritage Site, this edifice constructed in 1753 is the star attraction of the Independence Hall National Historic Park. During the American Revolutionary War (1775-1783), America's Founding Fathers (including Benjamin Franklin, Thomas Jefferson, and John Adams) debated, drafted, and adopted two seminal political documents in the building: the Declaration of Independence and the United States Constitution. Often called the "birthplace of America," this imposing red brick structure and its clock tower brings visitors back in time some 250 years in a most moving historical setting.
Like any nation, the United States is home to major architectural landmarks which continue to inspire all who visit them. From the nation's capital to its largest city to university campuses, some of America's most beautiful buildings showcase a great range of styles, eras, and history, as diverse as the country itself.