East Honolulu is a census-designated place (CDP) situated east of the center of Hawaii's capital, Honolulu. East Honolulu is the second most populous CDP in Hawaii, composed of several upscale neighborhoods. With its distinctive landscapes, natural, and cultural resources, East Honolulu is a safe and charming community. Every residential area in East Honolulu has a distinct character and sense of place.
Geography and Climate of East Honolulu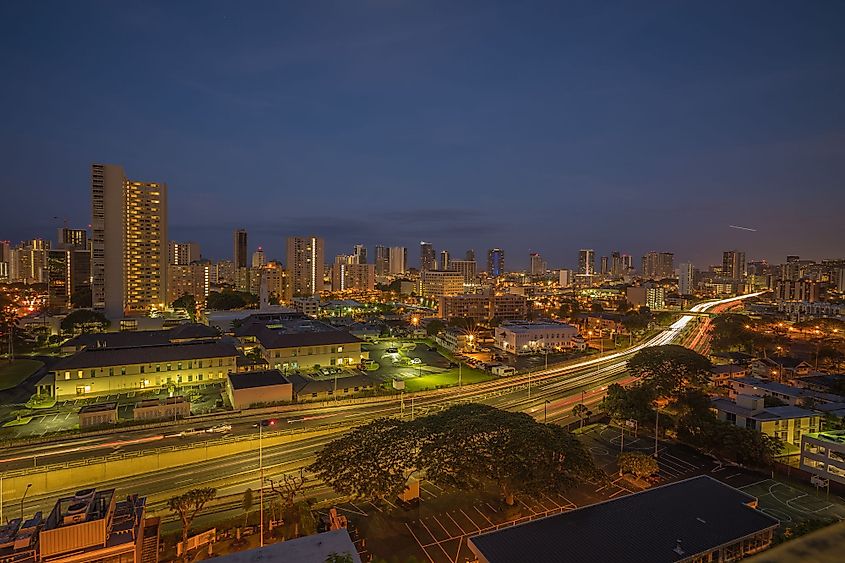 According to the Köppen climate classification, East Honolulu experiences the rare Tropical Savanna Climate with alternating dry and wet seasons where the driest month records precipitation of less than 60mm. The average yearly temperature is 26°C, with August and January recording the highest (28°C) and lowest (23°C) average temperatures, respectively. On average, East Honolulu gets 1117.6mm of precipitation yearly, with June reporting the lowest number. The rainy season lasts the entire year, with a dry season from April to October. This area doesn't receive snowfall.
Recognition as a CDP
The county seat and unincorporated area of the City and County of Honolulu is "Honolulu." To avoid confusion with the "City and County," the general region known as the "City of Honolulu" is recognized as a census county division for statistical purposes (CCD). For the purposes of presenting census data, the US Census Bureau does not recognize any incorporated places in Hawaii. Despite being formally incorporated in 1907 as the City and County of Honolulu, Honolulu is not listed as an incorporated place by state officials. In Hawaii, there are 151 CDPs. All CDPs are treated as dependent inside CCDs by the US Census Bureau. Census geography regulations would not have allowed the reporting of sub-county statistics, such as that for East Honolulu, had the City and County of Honolulu been recognized as an "incorporated place." In 2010, the Honolulu Census Designated Place (CDP) was divided into three areas: Urban Honolulu, East Honolulu, and a portion that was added to the already-existing Hickam CDP.
The Population and Economy of East Honolulu
As per the latest US Census, East Honolulu has a population of 50,922 residents, where 50.4% are females and 49.6% are males. The city's racial makeup is 48.2% Asian, 24.6% White (non-Hispanic/Latino), 5.1% Hispanic or Latino, 3.2% Native Hawaiian and Pacific Islander, and 0.5% African-American or Black. The remaining are distributed among American Indians, Alaska Natives (AI/AN), and other mixed races. English is spoken by 81.1% of the population. The rest speak Asian and Pacific Islander languages (15.5%), Spanish (1.3%), Indo-European languages (1.3%), and other foreign languages (0.8%). 72.2% of the population in East Honolulu are naturalized US citizens. Veterans make up 8.5% of East Honolulu's population, of which 95.3% are males, and 4.7% are females.
As per the same Census, the employment rate in East Honolulu is 58.8%, with a poverty rate of 3.1%. The homeownership rate is 84.3%, where the median gross rent cost is $2,690 per month, with a median household income of $139,487. According to Sperling's BestPlaces, the unemployment rate in East Honolulu is 7.6%. Moreover, over the past year, the job market in East Honolulu has grown by 0.2%. Compared to the US average of 33.5%, future job growth is expected to be 31.1% during the next ten years.
Attractions in and Around East Honolulu
Hanauma Bay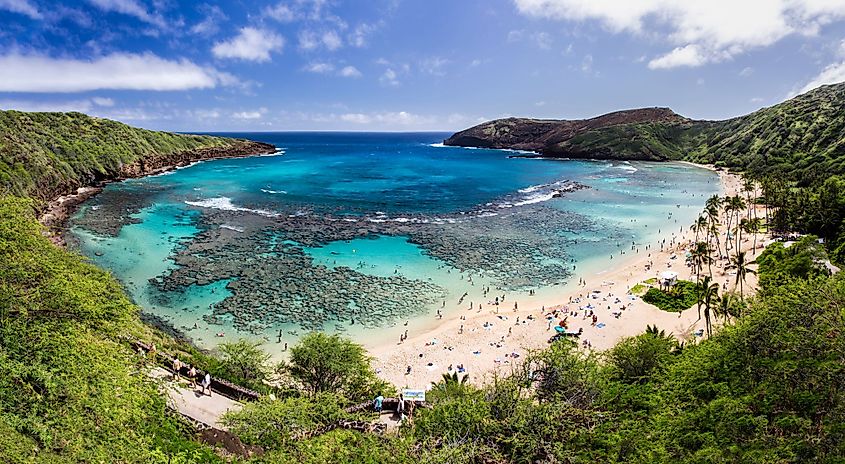 Hanauma is a marine embayment in the East Honolulu area of the Hawaiian Islands that was created within a tuff ring and is situated along the southeastern coast of the Island of Oahu. Hanauma, one of the Island's most famous tourist spots, has endured some effects of over-tourism. It once hosted more than three million visitors in a year.
Diamond Head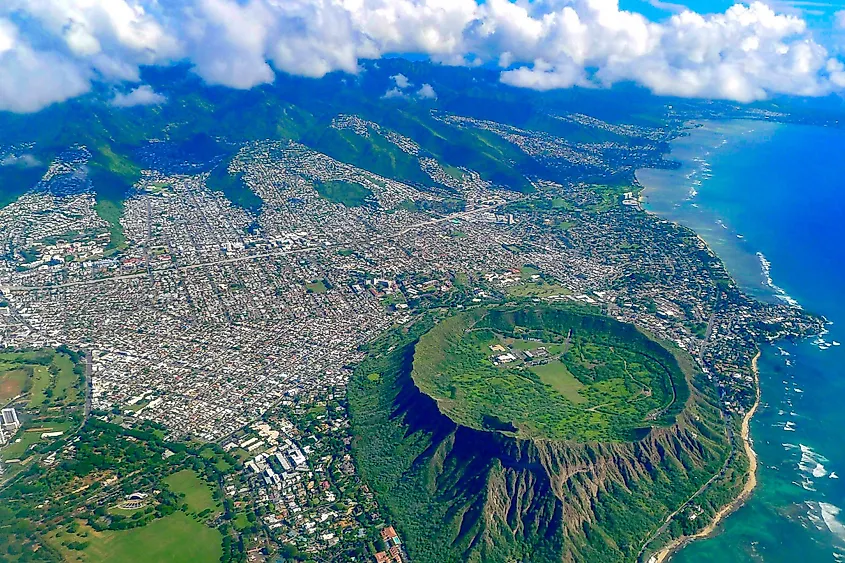 The most visited landmark in Hawaii State Park is Diamond Head, a volcanic cone on the Hawaiian island of Oahu. Because the ridgeline of the formation resembles the dorsal fin of a tuna fish, Hawaiians describe it as Lahi (brow of the tuna). The brilliance of the calcite crystals on the nearby shore fooled the British soldiers who came to the area in the 19th century into believing they were diamonds. You may hike to Diamond Head's breathtaking vistas of the Pacific Ocean and Honolulu through a trail leading to the 300,000-year-old crater's rim.
Sea Life Park Hawaii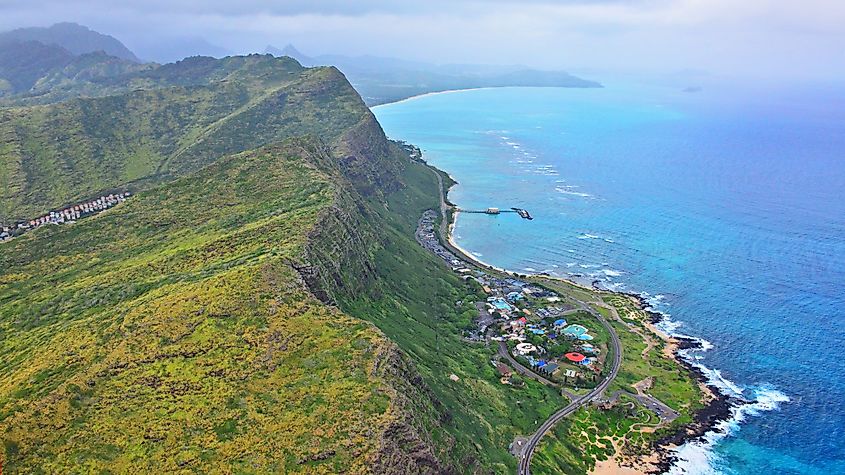 Sea Life Park Hawaii is situated on the island of Oahu, just north of Hanauma Bay. In the park, the guests can swim with dolphins, sea lions, and rays, go on a sea safari in the aquarium, and feed sea turtles.
East Honolulu is a tranquil haven. It's a serene retreat just a short drive from the hustle and bustle of Honolulu, where one can rest and enjoy nature. It lacks major hotels and malls but is lined with excellent local food, shopping centers, water activities, and beautiful white sand beaches.